There are reports of at least 23 fighter jet raids on the Syrian town of Idlib and observers in the area claim that the jets were both Syrian and Russian.  There are fears that these airstrikes signal the beginning of the assault on the last rebel stronghold in Syria.  In response, US President Trump tweeted: "President Bashar al-Assad of Syria must not recklessly attack Idlib Province. The Russians and Iranians would be making a grave humanitarian mistake to take part in this potential human tragedy. Hundreds of thousands of people could be killed. Don't let that happen!"  Idlib province is home to about 2.9 million people and it represents a significant strategic crossroad for Syrian, Turkish, Israeli, Kurdish, and Russian interests.  The Russians have amassed its largest naval flotilla off the coast of Syria as a sign how important it regards the outcome of the battle for Idlib.  Iran, Turkey, and Russia have scheduled a summit meeting on Syria for 8 September and the results of that meeting will determine how the battle for Idlib will unfold.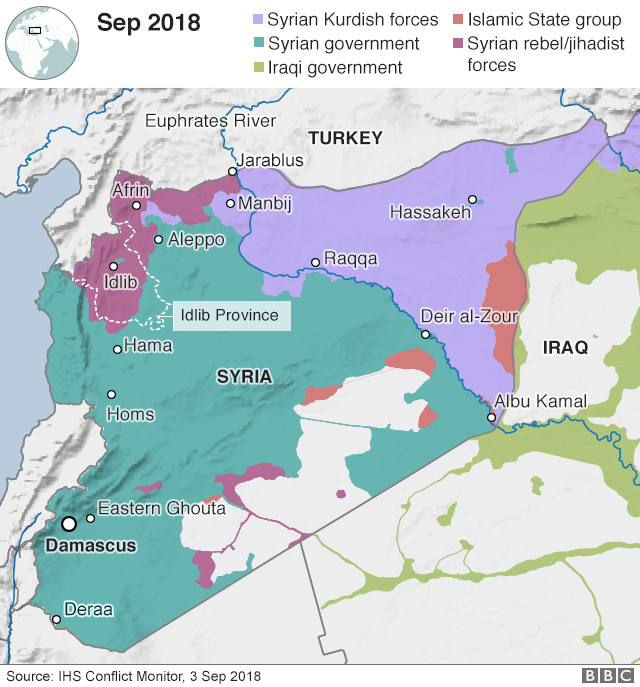 The British still have not figured out how to manage its exit (Brexit) from the European Union (EU).  It is a major economy in the Union, but leaving the Union has raised a large number of issues that were not anticipated by the voters.  And it now appears as if sentiment in Great Britain is changing.  According to Reuters:
"Polling showed 59 percent of voters would now vote to remain in the bloc, versus 41 percent who would vote to leave. The findings were published in an academic-led report on Wednesday by research bodies NatCen and The UK in a Changing Europe.
"That is the highest recorded support for 'remain' in a series of five such surveys since the 2016 referendum and a large reversal of the actual 52-48 percent vote to leave."
The Brexit controversy has split the ruling Tory government and its not clear that Prime Minister Teresa May has the ability to take the steps necessary to engineer a coherent strategy on Brexit.  UBS, a major back, estimates that the British GDP is already
2% lower because of the lack of a plan.