President Trump and President Xi have finally spoken to each other by phone.  According to news reports, President Xi asked President Trump to reiterate US support for the One-China policy and President Trump did so.  The US response allows US-Chinese relations to continue without distraction.  There are a number of issues between the two states, but the Chinese had made clear that none of these other concerns could be addressed as long as US-Taiwan relations were ambiguous.  But it was an interesting capitulation by President Trump, who raised the issue as a bargaining chip only to give it away in short order.  The New York Times characterizes the outcome of the telephone call in this manner:
"'Trump lost his first fight with Xi and he will be looked at as a paper tiger,' said Shi Yinhong, a professor of international relations at Renmin University of China in Beijing and an adviser to China's State Council. 'This will be interpreted in China as a great success, achieved by Xi's approach of dealing with him.'"
As other issues come to the fore, we will be better able to assess the significance of this telephone call.  Public opinion in the US toward China has become increasingly more unfavorable over the years.  That trend needs to be reversed; the US and China need to work with each other for stability in the international system.  Their mutual economic interests essentially support the entire global economy.
Some police officers in Brazil are striking for better pay.  The situation in the Brazilian state of Espirito Santo is especially acute and 120 people have died in what some have described as an anarchic situation.  The military has sent in soldiers to fill the void, but there are fears that more police officers will join the strike.  Every level of government in Brazil is suffering from serious budget crises as the economy, once incredibly vibrant a few years ago, has slowed precipitously.  The Guardian has a vivid photo gallery of the situation in Brazil.
Signs of Discontent in Brazil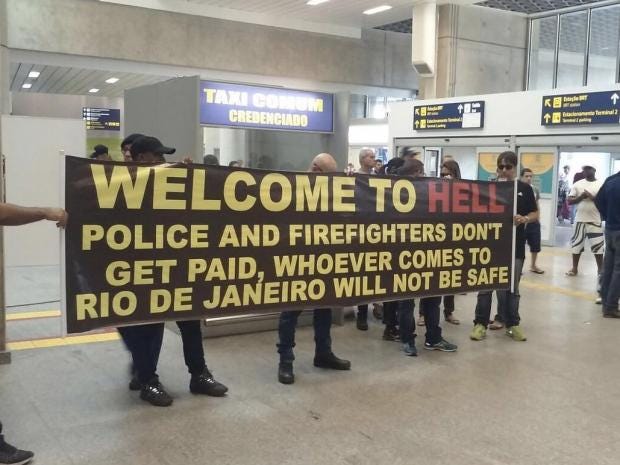 US and Chinese military aircraft flew dangerously close to each other in the South China Sea.  Both airplanes were doing reconnaissance and the close encounter was apparently unintentional.  But the risk of an accident in constricted and contested space is quite high.