Canada and Saudi Arabia are engaged in a serious dispute.  To its credit, Canada criticized the arrests of two human rights activists, Samar Badawi and Nassima al-Sadah, by the Saudi Government. Since May about a dozen women have been arrested because of their activism.  According to the Irish Times, they were arrested for campaigning "for the right to drive and an end to the country's male guardianship system, which requires women to obtain the consent of a male relative for major decisions."  The Canadian statement was simply that it was gravely concerned and that "We urge the Saudi authorities to immediately release them and all other peaceful human rights activists."  In response, the Saudi government told the Canadians that this matter was an internal affair.
"But that was just the beginning. Saudi Arabia proceeded to order the expulsion of Canada's ambassador, suspend flights to Toronto, and cut off "all new businesses transactions and investments linked with Canada." On Monday, the country announced that it would relocate about 16,000 Saudi scholarship recipients studying in Canada.
Finally, a Saudi group tweeted the graphic below in what can only be described as a callow and brutal threat to Canada (the Tweet was subsequently removed).  Apparently reprehensible rhetoric is not confined to the US.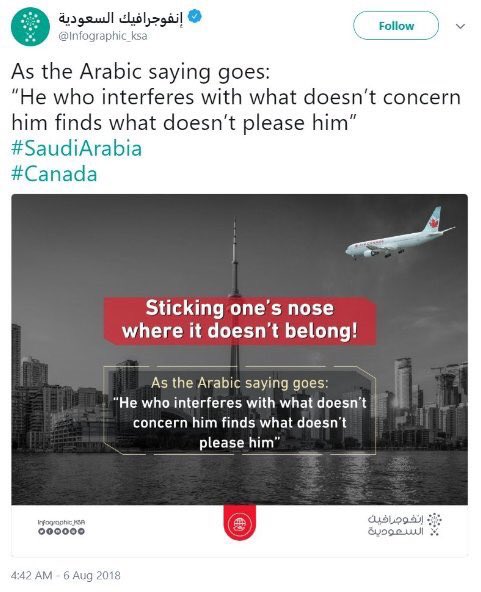 There is a petition circulating in Israel to change or repeal the new "nation-state" law which declares Israel as the nation-state of the Jewish people alone and elevates the status of Hebrew over Arabic.  The petition is supported by minority communities within Israel, notably the Druze and Bedouin peoples, who believe that the law institutionalizes them as second-class citizens.  The law is also opposed by Jews in Israel and abroad as well.
Protests in Israel
US National Security Adviser John Bolton gave a blunt assessment on the status of the effort to persuade North Korea to denuclearize.  Despite President Trump's statement last June that "there is no longer a nuclear threat from North Korea", Bolton told Fox News:
"The United States has lived up to the Singapore declaration….It's just North Korea that has not taken the steps we feel are necessary to denuclearize."
"The idea that we're going to relax the sanctions just on North Korea's say-so, I think, is something that just isn't under consideration. We're going to continue to apply maximum pressure to North Korea until they denuclearize, just as we are to Iran. The president feels very strongly about it."