The Italian election produced no clear winner, but demonstrated the strength of anti-establishment sentiment in Italy.   The 5-Star Movement and the League garnered the most votes, but not enough to form a coalition government.  Nor does it seem as if the two parties are really interested in working with each other.  The traditional parties seem to have been completely repudiated by the electorate.  The League, formerly known as the Northern League, is an anti-immigrant party led by Matteo Salvini who managed to attract support in the south and is adamantly opposed to the European Union.  Italy's difficulty is that these two parties will not work with each other, so forming a new government will be extremely difficult.   The European Union, relieved that Merkel will continue in Germany, will now have to wait for Italy to decide how it will interact with the Union.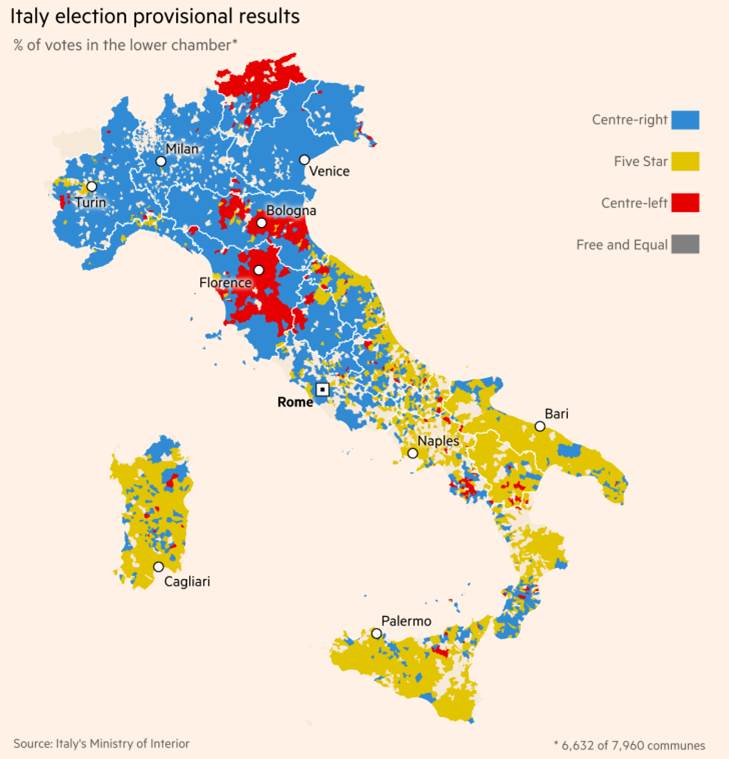 North Korean leader, Kim Jong Un, met with South Korean officials in Pyongyang, the North Korean capital.  The North-South dialogue continues even as the official US position remains uncertain.  There is some ambiguity over whether the US is demanding that North Korean denuclearization is a precondition for further negotiations or whether the US is merely insisting that North Korea show a willingness to discuss denuclearization.  The difference may sound minor, but the North Koreans will not accept denuclearization as a precondition for discussions.
U.S. Trade Representative Robert Lighthizer has warned that negotiations to redraft the North American Free Trade Agreement (NAFTA) with Mexico and Canada have slowed down without an agreement in sight.  US President Trump's recent announcement concerning tariffs on steel and aluminum has complicated the negotiations tremendously, and the issue was further clouded by statements that perhaps Canadian and Mexican steel and aluminum could be exempted from the tariffs.  I suspect that Canada and Mexico did not appreciate the heavy-handed approach to the negotiations and will be less likely to make concessions under such a threat.