US President Trump's decision to decertify the Iran nuclear agreement was based, in part, on his assertion that Iran had violated the agreement.  His advisors, notably US Secretary of State Tillerson, had stated previously that Iran was in "technical compliance" with the agreement.  We are left with the difficult question of who to believe, and the answer to that question can be partially found in assessing the rigor of the inspections by the International Atomic Energy Agency (IAEA).  The IAEA has 400 inspectors assigned to monitoring the Iran agreement.  It conducted 402 inspections since the agreement was signed, 25 of which were snap inspections (2 snap inspections a month).  If the Trump Administration pulls out of the agreement and reimposes sanctions, there is little question that Iran would leave the agreement as well.  And the world would go from 402 inspections a year to none.  The world would hardly be a safer place under those circumstances.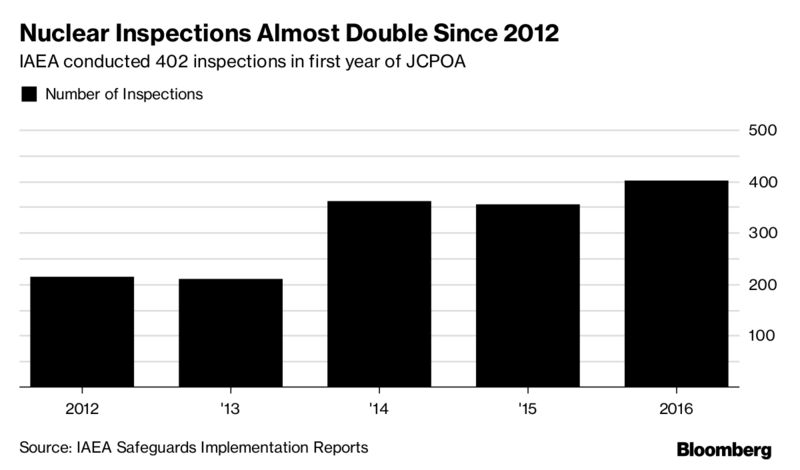 One thing to keep in mind is that Mr. Trump's animus toward the Iranian nuclear agreement reflects a broader concern with the growth of Iranian influence in Iraq and Syria.  There are reports that Iran is interested in keeping military units in Syria and in building a seaport along the Mediterranean Sea.  If Iran were to follow through on these reports the shift in the Middle Eastern strategic power would be consider highly threatening by both Israel and Saudi Arabia.  One could hardly expect the Israelis to accept the institutionalization of Iranian military power so close to its borders.
Bright Line Watch held a conference of political scientists on 6 October at Yale University to discuss the state of American democracy.  Their discussion made some troubling observations, one of which was the declining belief that the future will be better:
"But fewer and fewer Americans believe this is true. Due to wage stagnation, growing inequalities, automation, and a shrinking labor market, millions of Americans are deeply pessimistic about the future: 64 percent of people in Europe believe their children will be worse off than they were; the number is 60 percent in America.
"That pessimism is grounded in economic reality. In 1970, 90 percent of 30-year-olds in America were better off than their parents at the same age. In 2010, only 50 percent were. Numbers like this cause people to lose faith in the system. What you get is a spike in extremism and a retreat from the political center. That leads to declines in voter turnout and, consequently, more opportunities for fringe parties and candidates."
One of the reasons for the loss of faith in democracy is rooted in the economic reality of growing inequality.  For years, workers had enjoyed wage growth that mirrored their productivity.  In more recent years, as the chart below suggests, workers have not shared in the economic benefits of increased productivity.
How serious is this decline in the efficacy of democracy.  One example of how much faith has been lost in democratic institutions is shown by the following:
"Another startling finding is that many Americans are open to "alternatives" to democracy. In 1995, for example, one in 16 Americans supported Army rule; in 2014, that number increased to one in six. According to another survey cited at the conference, 18 percent of Americans think a military-led government is a "fairly good" idea."
Sebastian Kurz is likely to become Austria's next Chancellor if the results of today's national election stand.  According to CNN: "The People's Party (OVP), which Kurz has led since May, is widely expected to form an alliance with the Freedom Party (FPO), putting the far-right in an Austrian governing coalition."  Kurz ran on an anti-immigrant promise, not just in Austria but as official European Union policy.  The Freedom Party is an extreme right-wing party similar to Germany's Alternative for Germany, but the People's Party has been active in Austrian politics for some time.