Steven Brams is a political scientist who has used game theory extensively in his work and has applied it to a variety of political circumstances.  He has written an op-ed on how to apply a game theoretical perspective to the stand-off between the US and North Korea.  He critiques the policies employed thus far by a variety of Administrations and proposes a policy of No First Use as a way to reduce the tension between the two states.  His argument is straightforward:  if the US were to make the declaration in a very clear and committed fashion, North Korea might feel less threatened and behave less provocatively.  It is an intriguing proposal that deserves careful attention.
In the meantime, the South Korean press agency, Yonhap, is reporting that a US special operations force that has been specifically trained to "decapitate" the North Korean government is is onboard one of the submarines the US has dispatched to participate in the joint military maneuvers between the US and South Korea.  The training exercise, labeled "Maritime Counter Special Operations Exercise (MCSOFEX)" is scheduled to last through Friday.  The US forces deployed are unquestionably formidable, and, from the perspective of the North Koreans, highly threatening:
"A unit of U.S. special forces tasked with carrying out "decapitation" operations is aboard a nuclear-powered submarine in the group, according to a defense source.
"Among other assets mobilized are F-15K, FA-18 and A-10 fighter jets, as well as AH-64E Apache attack helicopters, Lynx and AW-159 Wild Cat naval choppers.
"The U.S. has also deployed a Joint Surveillance Target Attack Radar System (JSTARS) plane to closely monitor the North's ground and naval forces.
"Meanwhile, the U.S. has sent a B-1B Lancer strategic bomber, F-22 Raptor stealth fighter jets and several other types of high-profile defense assets to the Seoul air show to open this week.
"'Approximately 200 U.S. personnel are expected to participate in the Seoul International Aerospace and Defense Exhibition (ADEX) 2017, scheduled from Oct. 17-22 at the Seoul K-16 airport,'" the 7th Air Force said.
"Among the U.S. military aircraft to join the biennial event are the F-22 Raptor, B-1B Lancer, A-10 Thunderbolt II, C-17 Globemaster III, C-130J Hercules, KC-135 Stratotanker, E-3 Sentry, U-2 Dragon Lady and RQ-4 Global Hawk, it added.
"Also fielded will be the Air Force's fifth-generation fighter, the F-35A Lightning II, U.S. Navy P-8A Poseidon and a U.S. Army CH-47F Chinook."
It remains to be seen how the North Koreans will react the the exercise.  But North Korea's deputy U.N. ambassador, Kim In Ryong, warned that the situation "has reached the touch-and-go point and a nuclear war may break out any moment."  Further, according to the Associated Press:
"He pointed to large-scale military exercises every year using 'nuclear assets' and said what is more dangerous is what he called a U.S. plan to stage a 'secret operation aimed at the removal of our supreme leadership.'
"This year, Kim said, North Korea completed its 'state nuclear force and thus became the full-fledged nuclear power which possesses the delivery means of various ranges, including the atomic bomb, H-bomb and intercontinental ballistic rockets.'
"'The entire U.S. mainland is within our firing range and if the U.S. dares to invade our sacred territory even an inch it will not escape our severe punishment in any part of the globe'".
A US F-35 stealth fighter is seen during the press day of the 2017 Seoul International Aerospace and Defense Exhibition at Seoul Airport in Seongnam, South Korea, Monday, Oct. 16, 2017. South Korean and U.S. troops launched five days of naval drills on Monday, three days after North Korea renewed its threat to fire missiles near the American territory of Guam. (AP Photo/Ahn Young-joon)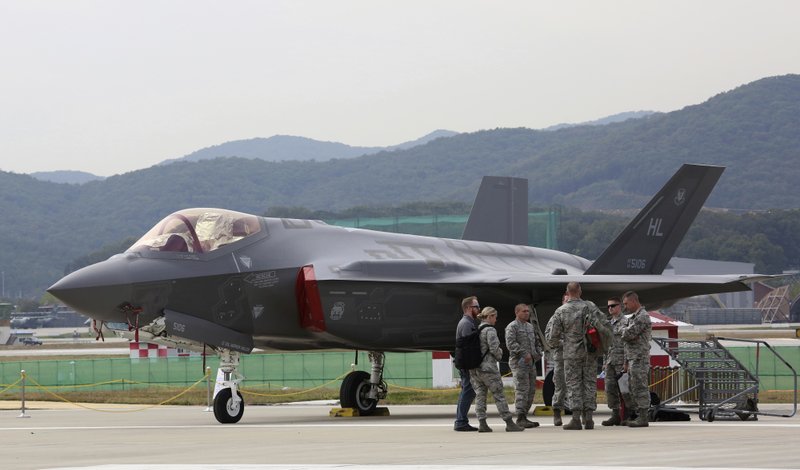 The Spanish government has ramped up the pressure on the Catalan independence movement.  According to The Spain Report:
"National High Court judge Carmen Lamela jailed the chairmen of the Catalan National Assembly (ANC), Jordi Sánchez, and Omnium Cultural, Jordi Cuixart, on remand on Monday night, several court reporters tweeted.
"The men are being investigated on charge of sedition for the events of September 20 in Barcelona, when several Civil Guard officers acting as judicial police, as well as a court secretary, were prevented by a crowd of up to 40,000 people from leaving a building they had been searching."
The charges carry penalties of up to 10 years in prison and the trial will definitely stoke the passions of those Catalans who wish to see an independent Catalonia.
Cuixart, left, and Sanchez arrive to the Audiencia Nacional Court