The official Turkish news agency has published the location of secret American bases in northern Syria.  We have known that US soldiers have been operating in the area, largely to serve as a buffer between Kurdish and Turkish forces which are also fighting against Daesh (the Islamic State).  But the publication of the exact location of these bases is a serious security risk to those soldiers and represents a breach of trust between the US and its NATO ally, Turkey.  Curiously, at the same time, the US announced that it is ending the CIA program arming the Syrian rebels who are fighting against Syrian President Assad.  The decision is a tremendous victory for Russian President Putin who has been working to assure Assad's tenure throughout the civil war.
US Bases in Northern Syria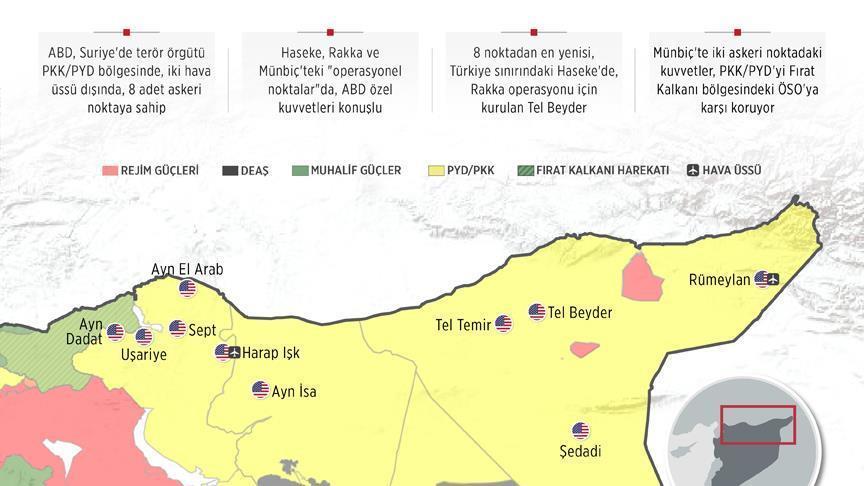 Even though the border dispute between China and India is decades old, for some reason the dispute has slowly been heating up over the last month and there are voices in both India and China that think that a war is imminent.  Chinese-Indian relations are not issues I personally study closely, so my impressions of the rhetoric in the media and in official channels may be off base.  But there is little question that the area in dispute is strategically important to India since it is the only land connection between the seven northeastern Indian states to the Indian mainland.  Both countries are experiencing a surge in nationalist feelings and this type of dispute–which led to war in 1962–stokes nationalist emotions to a fever pitch.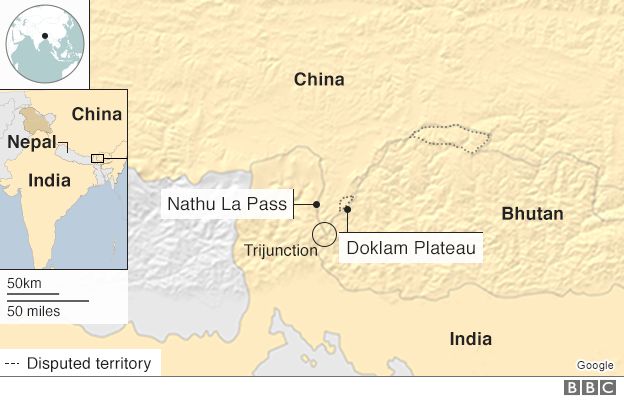 The US National Oceanic and Atmospheric Administration has released its monthly report on global temperatures for June 2017.  Its findings are troubling, particularly since there was no el Niño effect to boost temperatures:
"Overall, the combined global land and ocean surface temperature for June 2017 was 0.82°C (1.48°F) above the 20th century average of 15.5°C (59.9°F) and the third highest June temperature in the 138-year record, behind 2016 (+0.92°C / +1.66°F) and 2015 (+0.89°C / +1.60). June 2017 marks the 41st consecutive June and the 390th consecutive month with temperatures at least nominally above the 20th century average."
The climatologist Michael Mann puts the findings in context in an email to Think Progress:
"As if it wasn't shocking enough to see three consecutive record-breaking years, in 2014, 2015, and 2016, for the first time on record, we're now seeing near-record temperatures even in the absence of the El Nino 'assist' that the previous record year benefited from."
The findings are troubling and suggest that the last three years do not appear to be anomalous.  As of now, those years still remain "weather" and not "climate".  But when does the abnormal become normal?