The US is deploying troops along the Syrian-Turkish border.  The move comes a few days after a Turkish air strike killed about 20 Kurdish fighters in an attack that signals increasing Turkish concerns about the Kurdish interest in establishing a Kurdish state.  The US troops will serve as a buffer between Turkish and Kurdish forces, but the deployment also suggests that the US is becoming more involved in the fighting against Daesh (the Islamic State).
There was a general strike in Brazil as millions took to the streets to protest the austerity policies of the government of Michel Temer.  The government, which has been wracked by corruption scandals since the impeachment of former President Rousseff, has tried to make changes in labor laws and pension plans that many Brazilians believe are unfair and unwarranted.  The strike was the first general strike in Brazil since 1996 and affected 26 Brazilian states.
Scene in Brasilia on Friday morning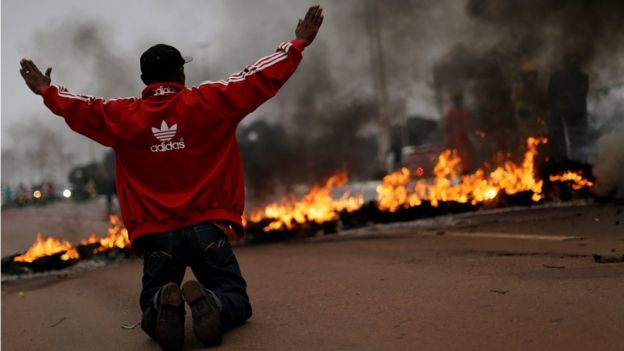 The European Union recently conducted a poll:  "Around 580,000 respondents in 35 countries were asked the question: Would you actively participate in large-scale uprising against the generation in power if it happened in the next days or months? More than half of 18- to 34-year-olds said yes."  What is very interesting about the poll is that it was taken in the context of a clear decline in voting by that same age cohort. It appears as if democracy no longer seems viable to many young people.