There are reports that Israeli and Iranian forces have exchanged fire in Syria, around the Golan Heights.  ZeroHedge  has written up a timeline of the most recent events:
1. Trump withdraws from Iran Nuclear Deal
2.Israel Instantly activates bomb Shelters in Golan Heights
3.Israel reports unusual Iranian activity in Syria border areas
4. Sources/Reports begin discussing imminent threat of Iranian led attacks on Israel from Syria
5. Israel strikes Al-Kisweh industrial area around Damascus with two rockets
6. Syrian State Media claims two further rockets were downed
7. Reports that Eight Iranians among 15 foreign pro-government fighters were killed in the attack which took place yesterday
8. Israel continues a steady build up of troops/tanks on Syrian border this morning
9. Heavy Israeli air activity over the Golan Heights today
10. Israeli rocket flies over Qunaitra going towards Damascus, Syrian air defense fired at it
11. Reports claim that the rocket was downed South East of Damascus, Israeli Jets still heavily present in the skies
12. Numerous artillery and mortar strikes from Israel targeted areas around Al-Baath City in Qunaitra province
13. Israeli Tanks firing at Syrian positions also, no reports of casualties so far
14. Sirens reportedly heard on Israeli side of border
15. Numerous Israeli strikes now reported in Hadar in Qunaitra
16. Syrian air defense firing at Israeli rockets targeting Hadar in Qunaitra.
17. Al- Mayadeen reporting numerous Syrian army strikes (Mortars, Artillery) on Israeli positions near border with Syria. Most of the Syrian missiles fired at #Israel were reportedly intercepted by the Iron Dome
18. Pro Gov Al-Mayadeen stating that 4 Israeli locations have been targeted
19. Reports of more Israeli strikes on Hadar in Qunaitra
The Washington Post provides additional information about the strikes which follow a series of strikes several weeks ago by Israeli forces which reportedly killed Iranian militia .  Israeli Prime Minister Netanyahu has met with Russian President Putin presumably to discuss the Israeli attacks against Iranian forces.  Iran and Russia both support the Syrian government of President Assad, but Russian and Iranian interests are not completely consistent in the region.  Netanyahu is likely assuring Putin that Israeli attacks will not compromise the pro-Assad alliance even though the attacks will undoubtedly weaken Iran in Syria.  At the same time, Iranian-backed Houthi Rebels in Yemen fired missiles toward the Suadi Arabian capital city, Riyadh.
Map of Parts of the Golan Heights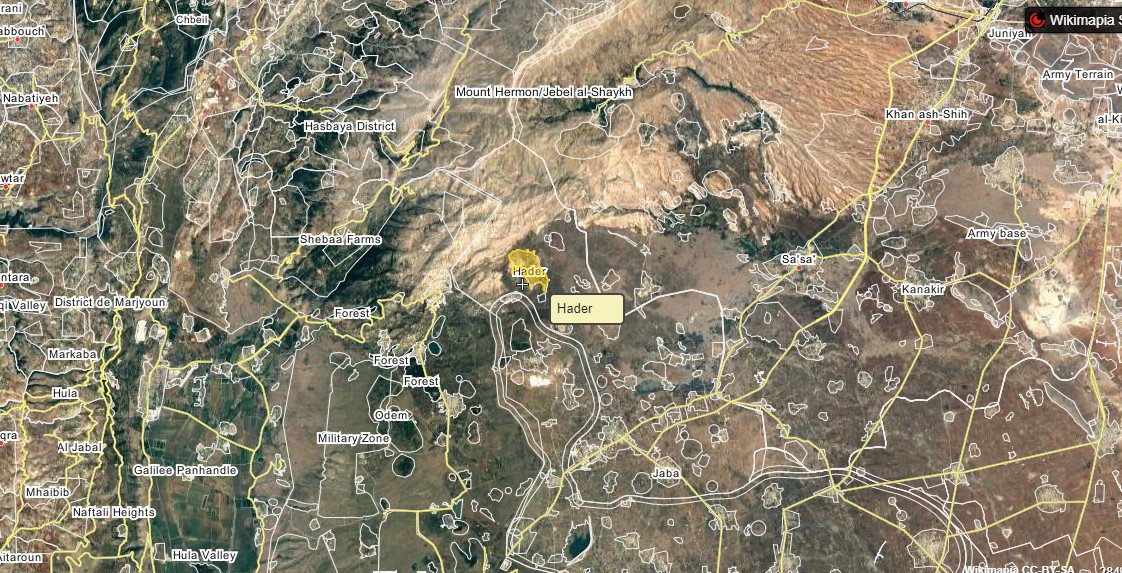 Former Malaysian Prime Minister Mahathir Mohamad has won a shocking victory over incumbent Prime Minister Najib Razak in national elections.  Mahathir's party won 115 seats in the Parliament, three more that the majority necessary to form a government.  It appears as if charges of corruption against Razak persuaded Malaysians to change the government.   Mahathir had been Prime Minister for 22 years and he is now the oldest leader in the world at the age of 92.  Razak,  has been in office since 2009 and his party, Barisan Nasional (National Front), has held power since the country gained independence from Britain in 1957.
In Italy, the 5-Star Movement, an anti-establishment party pioneered by an Italian comedian, has joined forces with the far-right party, the League (once known as the Northern League) have reportedly reached agreement to form a coalition government.  The agreement comes after 9 weeks of political wrangling after an inconclusive national election.  There is still more political maneuvering before the agreement comes into force, and it is unclear what the new government hopes to accomplish.  But the stalemate was becoming dangerous for Italy's financial standing and there was no evidence that any other alternative was possible.  We shall see how stable the new government is.