Germany will hold its national elections on 24 September and all the polling evidence that Angela Merkel's party will retain control of the Bundestag.  But some observers are concerned about the apparent strength of the far-right nationalist party, Alternative for Germany (AfD).  Reuters has an excellent run-down of the candidates and parties involved in the upcoming election.  All the Germans parties have indicated that they will refuse to work with AfD, but if the polling is accurate, it could emerge with the third largest number of seats in the Bundestag, giving it considerable power.
Alice Weidel and Alexander Gauland of the AfD party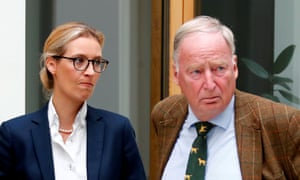 Since there were elections in 2006, the Palestinian people have been ruled by two political factions: Fatah, the more moderate wing of the Palestinian Authority has ruled in the West Bank; and Hamas, the more radical wing which has ruled in the Gaza Strip.  The division has undermined the legitimacy of the Palestinian Authority and the welfare of the Palestinian people has suffered tremendously by the lack of leadership.  But Hamas has apparently decided to initiate a reconciliation by permitting elections and inviting the new government to take control of the Gaza.  There have been similar overtures in the past which have not succeeded, but this one, under the aegis of Egypt, seems to have a better chance of working.
Polls in Mexico indicate that most Mexicans now view the US very unfavorably.   The shift in attitude was very sharp and is almost totally related to the election of Donald Trump as American President.  Mexicans also have a negative view of their own country.  According to the Pew Research Center:
"Overall, the national mood in Mexico is grim: 85% are dissatisfied with the way things are going in Mexico generally, and perceptions of the national economy are not much better, with seven-in-ten believing the economic situation is bad.
"Today, Mexicans are most concerned with crime, political corruption, cartel-related violence and rising prices, though corrupt police officers and a lack of employment also alarm many. Lower-level but still significant concerns include poor-quality schools and the wealth gap."
Americans should be very concerned about the disintegration of this relationship, one of the most important for the US and the world.
Billboard along Periférico avenue in Mexico City, Mexico, on July 28, 2017