A Russian tanker, the Christophe de Margerie, trip from Norway to South Korea through the Arctic has completed a without the aid of an icebreaker.  This trip is a first and it was completed in only 19 days, 30% shorter than the traditional route through the Suez Canal.  The ship has advanced technology to facilitate the passage, but the trip also signals the effects of climate change.  The Arctic Ocean will likely seen a dramatic increase in activity by many states as the sea ice continues to recede for much of the year.
Christophe de Margerie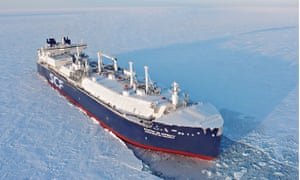 Qatar has announced that it will restore its diplomatic relations with Iran.  The decision is a sharp rebuff to Saudi Arabia and its Gulf allies which had demanded that Qatar sever all relations with Iran.  The decision is a victory for Iran, but it also reflects Qatar's dependence on its shared natural gas reservoir with Iran.  Qatar actually had little choice in the matter since its economy relies almost completely on the revenues generated from the natural gas.
North Korea has launched three missiles in violation of the UN Security Council sanctions.  They appear to have been short-range missiles, and the launches do not appear to have been successful.  Nonetheless, it remains to be seen if the launches will induce US President Trump to take some action in response.  Stay tuned.