Every four years, 13 US Federal agencies are required to submit what is known as the National Climate Assessment.  The previous three reports have indicated that climate change has occurred and that human activity is partially responsible for the change.  Copies of the 4th report are currently being circulated and there were many scientists who were concerned that the US Environmental Protection Agency, which is currently under the direction of Scott Pruitt who has expressed doubts about climate change, would water down the report in line with the doubts expressed by many within the Trump Administration.  Last March Pruitt made this statement to CNBC:
'"I think that measuring with precision human activity on the climate is something very challenging to do and there's tremendous disagreement about the degree of impact, so no, I would not agree that it's a primary contributor to the global warming that we see."
 The New York Times, however, has published a copy of the draft that was submitted to the EPA for its approval.  We will therefore be able to see what changes, if any, are demanded by the EPA for the final report.
Global Times, which often reports official Chinese policy, has published an editorial that makes an ominous prediction on the standoff between India and China along the Bhutanese border in Doklam.  According to the editorial:
"China will not allow the military standoff between China and India in Doklam to last for too long, and there may be a small-scale military operation to expel Indian troops within two weeks, Chinese experts said after six ministries and institutions made remarks on the incident within the past 24 hours."
Setting a deadline is risky business in world politics.  It makes it very difficult for both sides to back down.
Income inequality is perhaps the second-most important issue facing the world (after climate change), but it is only recently that it has become rigorously studied.  The pioneering work of Thomas Piketty (Paris School of Economics), Emmanuel Saez (UC Berkeley and NBER), and Gabriel Zucman (UC Berkeley and NBER) involved some incredibly detailed analyses of inequality in the US and the conclusions of those studies are uniformly grim.  Since the 1980s, the vast majority of citizens in the US have seen their incomes stagnate and the bulk of income growth has gone to a remarkably small number of people.  Their most recent paper, released in July, reinforces this conclusion.   David Leonhardt has written an op-ed for the New York Times which summarizes the conclusions of the papers.
The distribution of economic growth in the United States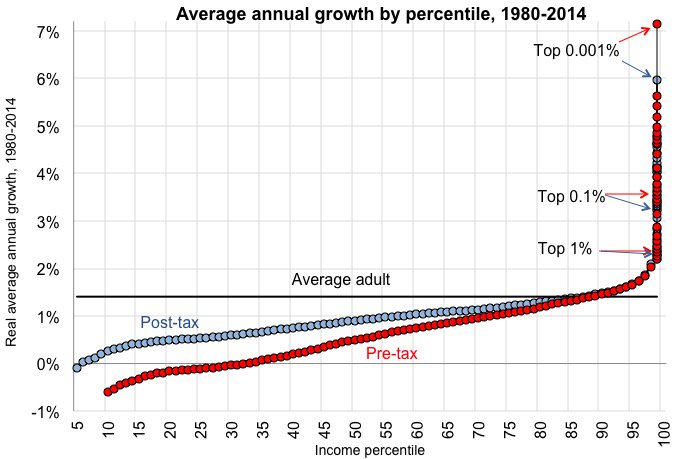 Gabrielle Rifkind of the Oxford Research Group has written one of the most intelligent analyses of the situation with North Korea and the best ways to resolve the crisis.  The analysis should be required reading for all the leaders of the states on the UN Security Council.  Additional sanctions without understanding North Korea's motivations will only be counterproductive.