The US has asserted that the troops being removed from Syria will be stationed in Iraq in order to make sure that ISIS does not resurface. But the Iraqis have said that the US does not have its permission to station the troops in their country for longer than a month. Al Jazeera provides the background to this situation:
"The Iraqi military said on Tuesday that the US forces do not have permission to stay in Iraq, in a response to Esper's previous comments that the approximately 700 troops leaving Syria would continue operations against the Islamic State of Iraq and the Levant (ISIL or ISIS) armed group from Iraq to prevent its resurgence in the region.

"The US already has more than 5,000 troops in Iraq under an agreement between Washington and Baghdad forged when ISIL began taking large portions of the country in 2014.

"Al Jazeera's Imran Khan, reporting from Baghdad, said Baghdad's reaction appeared to have stemmed from 'the language that the US used'.

"'The US said that the forces will come back to Ain al-Assad in western Iraq and mount operations against ISIL from there – and that seems to have angered the Iraqis,' Khan said."
The US withdrawal from Syria has been chaotic and has raised many questions about the integrity of the policy being implemented. There were many other ways a US withdrawal could have been handled that could have avoided the betrayal of the Kurds and the insult to the Iraqis.
We are still trying to determine how social media affects politics and there is a dearth of hard information about its effects. One media outlet is, of course, Twitter, an outlet that US President Trump uses quite frequently. But the Pew Research Center has released a poll which raises serious questions about the outsized influence of Twitter. According to the study:
"For years now, Twitter has been an important platform for disseminating news and sharing opinions about U.S. politics, and 22% of U.S. adults say they use the platform. But the Twitter conversation about national politics among U.S. adult users is driven by a small number of prolific political tweeters. These users make up just 6% of all U.S. adults with public accounts on the site, but they account for 73% of tweets from American adults that mention national politics.

" Most U.S. adults on Twitter largely avoid the topic: The median user never tweeted about national politics, while 69% only tweeted about it once or not at all. Across all tweets from U.S. adults, just 13% focused on national politics, according to a new Pew Research Center analysis based on public tweets that were posted between June 2018 and June 2019.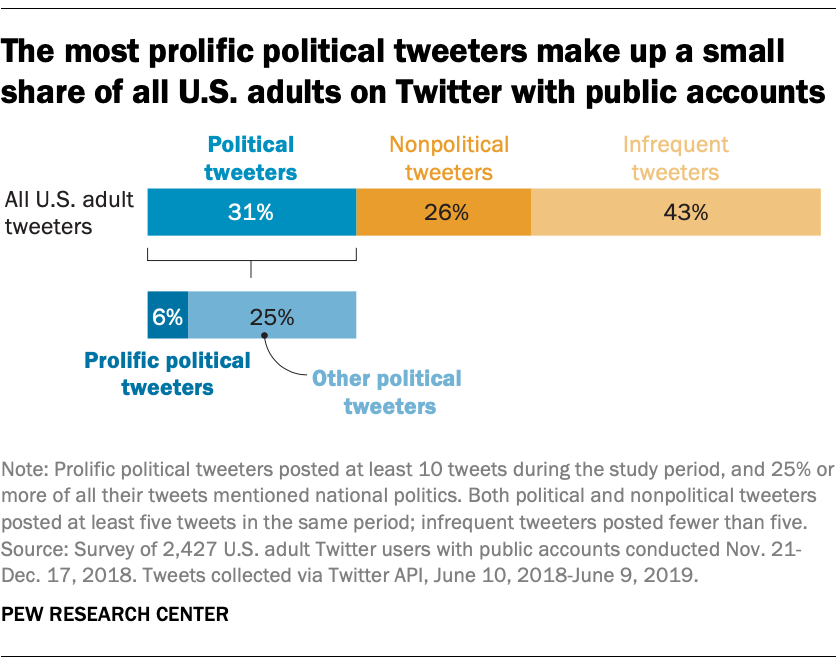 Pew does a very good job of identifying the attributes of what it calls political twitters. I have never used the outlet and cannot really assess how accurate the assessment actually is.
Air pollution in the US has increased substantially since 2016 according to a new study. The Hill summarizes the study:
"A new study released Tuesday found that the amount of pollutants in U.S. air rose between 2016 and 2018 after seven straight years of improvement. Two economists who conducted a study of Environmental Protection Agency data found that particulate matter air pollution dropped 24 percent in the U.S. from 2009 to 2016 but increased 5.5 percent the next two years, which correlated with thousands of premature deaths.

"'That increase was associated with 9,700 premature deaths in 2018,' Karen Clay and Nicholas Muller, economists with Carnegie Mellon, wrote in a paper published by the National Bureau of Economic Research.

"The researchers concluded that the deaths represent $89 billion worth in damages."
Julia Conley explains the reasons for the increase in small-particulate air pollution:
"The study linked declining air quality to three factors, all tied to the climate crisis and the U.S. government's refusal to reduce fossil fuel emissions that are warming the planet.

"Since taking office in 2017, President Donald Trump has completed 10 regulatory rollbacks involving efforts to improve air quality and has slashed nine regulations on fossil fuel extraction industries.

"Trump's repeal of a rule requiring state authorities to track vehicle emissions on highways, his decision to change how oil and gas refineries monitor pollution, and his rollback of a rule limiting industrial pollution are among the decisions that have led to worsened air quality, according to the report written by Karen Clay and Nicholas Muller and published by the National Bureau of Economic Research.

"'This is happening at a time when the EPA has disbanded its scientific panel reviewing fine particle air pollution,' tweeted Washington Post reporter Christopher Ingraham."
Given these causes, it seems unlikely that there will be any decrease in air pollution in the near term. Apparently more deaths and substantial economic losses are not enough to get a change in policy.