The Trump Administration is sending 800 military troops to the US southern border in anticipation of the "caravan" of refugees and asylum seekers from Honduras, Guatemala, and Mexico.  There is a great deal of misinformation about the caravan designed primarily to stoke fear of the people walking across Mexico.  The Economist describes the situation quite well:
"Much of what Mr Trump says is untrue, or at least unsubstantiated. As our correspondent in Tapachula reports (see article), the migrants in the caravan are mostly ordinary Hondurans who would rather live somewhere peaceful and rich than poor and violent. There is no evidence of Middle Easterners among them, or an unusual number of criminals. Nor is there a shred of evidence that Democrats had anything to do with organising the exodus. Why would they? The idea of a caravan was first popularised by a Honduran activist, and snowballed. It is easy to see why. Life is much better in the United States than in Honduras. And the journey, overland through Guatemala and Mexico, is dangerous. Migrants have often been robbed or beaten up along the way. Travelling in a large group makes that less likely. Small wonder that so many Hondurans, on hearing that the caravan was passing, decided to join it."
It will be a long time before the caravan comes close to the US border.  In the meantime the US troops being deployed will only provide logistical support to the Customs and Border Patrol forces already there.  The US military is prohibited from enforcing US domestic law by the doctrine of posse comitatus.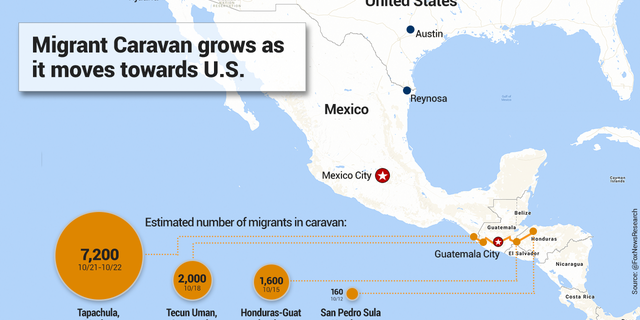 It seems as if the trade war between the US and China will not end anytime soon.  There are reports that the US has told China that it will not negotiate until China agrees to stop demanding on technology transfers from US companies if they wish to invest in the Chinese economy.  Alex Ward writes in Vox that the Chinese are becoming convinced that President Trump is less concerned with resolving trade disputes than he is in damaging the Chinese economy.  The IMF estimates that the trade measures imposed by the US so far on Chinese imports "could curb China's economic growth by about 2 percent over the next two years. If true, it would be a major blow to China's economy, which prioritizes continued growth above all else."  But the tariffs have also hurt US companies who rely on imports from China.  Business Insider ran an article that outlines a number of companies that are very concerned about the rising costs imposed by the tariffs:
"Auto manufacturers, retailers, and home-goods makers have weighed in on the downsides of the tariffs. Here are a few examples: