There was a summit meeting today of representatives from Turkey, Iran, and Russia over the next steps to address the last rebel stronghold in Syria in the province of Idlib.  Turkey has proposed a peace agreement, but Russia and Iran decided to support Syrian President Assad in his efforts to put down the rebellion.  The decision likely means a military assault which will mean significant loss of life.  An Islamic Relief worker in Idlib published an impassioned op-ed in the Guardian:
"Even as we stare death in the face, however, I fear the international community will once again fail to act and allow one of the worst humanitarian crises in living memory to go unchallenged.
"For seven years we have seen hospitals, markets, schools, mosques, people's homes, whole cities turned to dust, and people's bodies and minds broken beyond repair. While we bleed, world leaders respond with meek platitudes and statements of "concern".
"Where were they when whole families suffocated to death in chemical attacks, when barrages of barrel bombs killed thousands and turned ancient cities to dust? Where are they now that one "de-escalation" zone after another is turned into a bloody battleground?
"This collective inaction and inability to bring the warring parties to the table in any kind of meaningful way will haunt the public conscience for generations to come. Despite growing efforts to sweep this tragedy under the carpet and pretend things are getting back to normal, these atrocities cannot be erased or forgotten."
The evidence of a large-scale attack, including the use of chemical weapons, is mounting and the US, France, and Great Britain have threatened to retaliate in the case of the use of chemical weapons.  There is a real danger that the world could be faced with a massive humanitarian crisis and a widening war.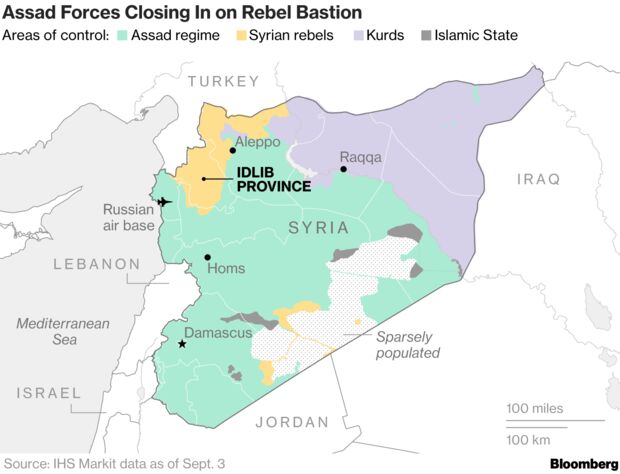 Today marked the end of the 60 day comment period for US President Trump's decision to put tariffs on $200 billion of imports from China.  We will have to see if he implements them, but he now has the authority to do so.  He also threatened today to put tariffs on another $267 billion of Chinese imports.  Reuters quotes Larry Kudlow, one of President Trump's economic advisers about the purpose of the tariffs:
"Specifically, Kudlow said, the United States was seeking 'zero tariffs, zero non-tariff barriers, zero subsidies, stop the IP theft, stop the technology transfer, allow Americans to own their own companies.'
"'Those have been our asks for many months and so far those asks have not been satisfied,' he said. 'However, hope springs eternal.'"
The tariff war seems to be about economics.  It is not.  It is primarily about technological innovation and supremacy.  Kudlow's comments clearly indicate US concern about preserving control over intellectual property and its ownership.