The bomb that killed 40 school children in Yemen was supplied to Saudi Arabia by the United States.  According to CNN , the bomb was "a 500-pound (227 kilogram) laser-guided MK 82 bomb made by Lockheed Martin".  These bombs had been used by the Saudis on two occasions during the Obama Administration and both times innocent civilians were killed in large numbers.  President Obama therefore banned the sale of these bombs since the evidence of Saudi carelessness was dramatic and conclusive.  Indeed, the United Nations accused the Saudis and their coalition partners of crimes against humanity.  That ban was overturned by the Trump Administration in March of 2017 which was followed by a $110 billion arms sale to Saudi Arabia.  The US complicity in Saudi war crimes is unconscionable.
Fragments of the Bomb that Killed the School Children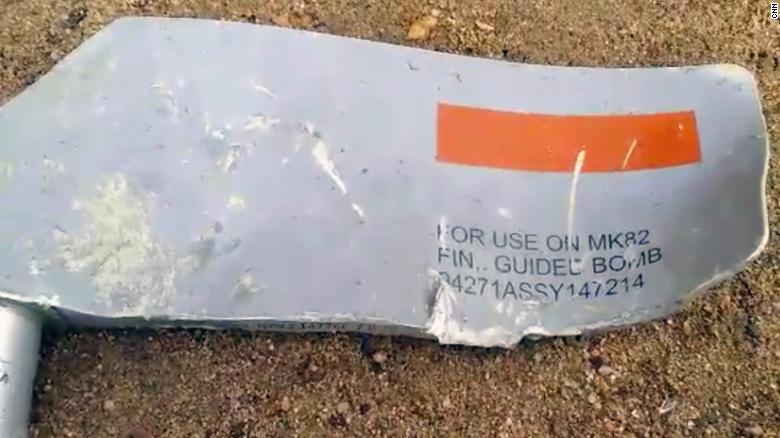 Three weeks ago, Gottfried Waldhäusl, environment minister for the far-right Freedom Party (FPÖ) in the state of Lower Austria. proposed a new law that would have required Jews and Muslims to register if they purchased Kosher or Halal meat.  The proposed legislation led to  strong protests from many groups who compared the registration requirement as roughly similar to the Nazi-law that required Jews to wear yellow stars.  But Austria has also decided to allow driving exams to be taken in Turkish.  Last February. the far-right Freedom Party ordered a raid on its own government's intelligence agency, an absolutely bizarre act compromising the integrity of the country's most sensitive secrets.  The Washington Post characterizes the Freedom Party which has control of the Interior Ministry in the current coalition government:
"The Freedom Party came to power in Austria at the end of last year as the junior partner in a coalition with the center-right. The party was founded by former SS officers in the 1950s, and has ridden anti-immigrant and anti-Muslim rhetoric to new heights of popularity in recent years. Some of its members have been revealed to share a nostalgia for Hitler's Third Reich.
"The party has a formal cooperation agreement with President Vladimir Putin's United Russia party, and the close ties show. Austria was a notable holdout when European Union nations banded together in March to expel Russian diplomats to protest the poisoning of former double agent Sergei Skripal. Top Austrian officials, meanwhile, have spoken out against the E.U.'s Russian sanctions. On Saturday, Putin is expected to be a guest of honor when Austria's foreign minister, the Freedom Party-allied Karin Kneissl, gets married."
The politics of Austria may be extreme, but they represent the clear trend in many societies toward ethnic nationalism and the politics of exclusion.