China has conducted a live-fire naval drill, including its aircraft carrier, the Liaoning, around the island of Taiwan.  The exercise was designed to dampen any thought of independence on the part of Taiwan's government as well as to protest the passing of the Taiwan Travel Act. by the US.  Asia Times  characterized the drills in these terms:  "Chinese papers said the number of vessels assembled was 'the largest of its kind in 600 years', following fleet admiral Zheng He's expeditions to Southeast Asia and further afield during the Ming dynasty era."  Zheng He's expeditions reached the east coast of Africa and occurred during 1405 to 1433, long before the European expeditions which were similarly far afield. The exercises were clear messages to Taiwan, the US, and those states who are concerned by Chinese activities in the South China Sea.  The exercise was also a message of concern about the proposed visit of the US National Security Adviser, John Bolton, to Taiwan in June.
The Liaoning Carrier Group
The Washington Post has a  fascinating article on the demographics of China and India which discusses the consequences of both countries having roughly 70 million more men than women.  That imbalance is extraordinary and is a result of cultural attitudes toward favoring male children over female children as well as governmental policies governing reproductive freedom.  The imbalance is stark:
"Out of China's population of 1.4 billion, there are nearly 34 million more males than females — the equivalent of almost the entire population of California, or Poland, who will never find wives and only rarely have sex. China's official one-child policy, in effect from 1979 to 2015, was a huge factor in creating this imbalance, as millions of couples were determined that their child should be a son.
"India, a country that has a deeply held preference for sons and male heirs, has an excess of 37 million males, according to its most recent census. The number of newborn female babies compared with males has continued to plummet, even as the country grows more developed and prosperous. The imbalance creates a surplus of bachelors and exacerbates human trafficking, both for brides and, possibly, prostitution. Officials attribute this to the advent of sex-selective technology in the last 30 years, which is now banned but still in widespread practice.
"In the two countries, 50 million excess males are under age 20."
The article is very substantive and has some very dramatic graphs–definitely a fascinating read.
Researchers have found that glaciers are melting and receding at an increasingly rapid rate due to global warming.  Glacier melt is a very important source of fresh water for many societies in the world so the health of glaciers is of profound importance.  The Guardian has published a graph (below) which shows the rate of glacier melt which is very worrisome.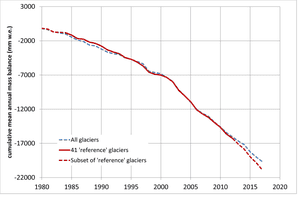 A Photograph of the Lagoon Nebula from the Hubble Telescope