The Tax Justice Network has published its annual list of tax havens in the world.  As usual, Switzerland tops the list but the US ranks the 2nd friendliest place to hide one's money from the tax collectors, just ahead of the Cayman Islands.  According to the Network:
"An estimated $21 to $32 trillion of private financial wealth is located, untaxed or lightly taxed, in secrecy jurisdictions around the world. Secrecy jurisdictions – a term we often use as an alternative to the more widely used term tax havens – use secrecy to attract illicit and illegitimate or abusive financial flows."
The result is not surprising, but it is interesting to note that in all the discussion about "tax reform" in the US over the last few months, there was no discussion of trying to plug the holes that allow the very wealthy to avoid paying their fair share of taxes.  The US is the place where almost a quarter of all global disguised wealth is hidden.
| Rank | Jurisdiction | Secrecy Score (out of 100) | Share of global offshore market |
| --- | --- | --- | --- |
| 1 | Switzerland | 76.45 | 4.50% |
| 2 | USA | 59.83 | 22.30% |
| 3 | Cayman Islands | 72.28 | 3.79% |
| 4 | Hong Kong | 71.05 | 4.17% |
| 5 | Singapore | 67.13 | 4.58% |
| 6 | Luxembourg | 58.20 | 12.13% |
| 7 | Germany | 59.10 | 5.17% |
| 8 | Taiwan | 75.75 | 0.50% |
| 9 | United Arab Emirates (Dubai) | 83.85 | 0.14% |
| 10 | Guernsey | 72.45 | 0.52% |
Robots are displacing workers all over the world, raising the question of what jobs will be available in the future as robot technology and artificial intelligence improves.  Job displacement is a highly political issue and it is one of the main sources of the populist impulse that we see all over the world today.  There is an interesting metric to measure the extent of the process of robotization: the number of robots per workers.  According to the International Federation of Robotics:
"The automation of production is accelerating around the world: 74 robot units per 10,000 employees is the new average of global robot density in the manufacturing industries (2015: 66 units). By regions, the average robot density in Europe is 99 units, in the Americas 84 and in Asia 63 units."
The country with the highest robot density in the world (by a very wide margin) should not surprise those who have been watching the Winter Olympics:  South Korea averages 631 robots per 10,000 workers.  But even countries with a high number of low wage workers, such as China, are making strong commitments to robotization.  Who knows what those displaced workers will do?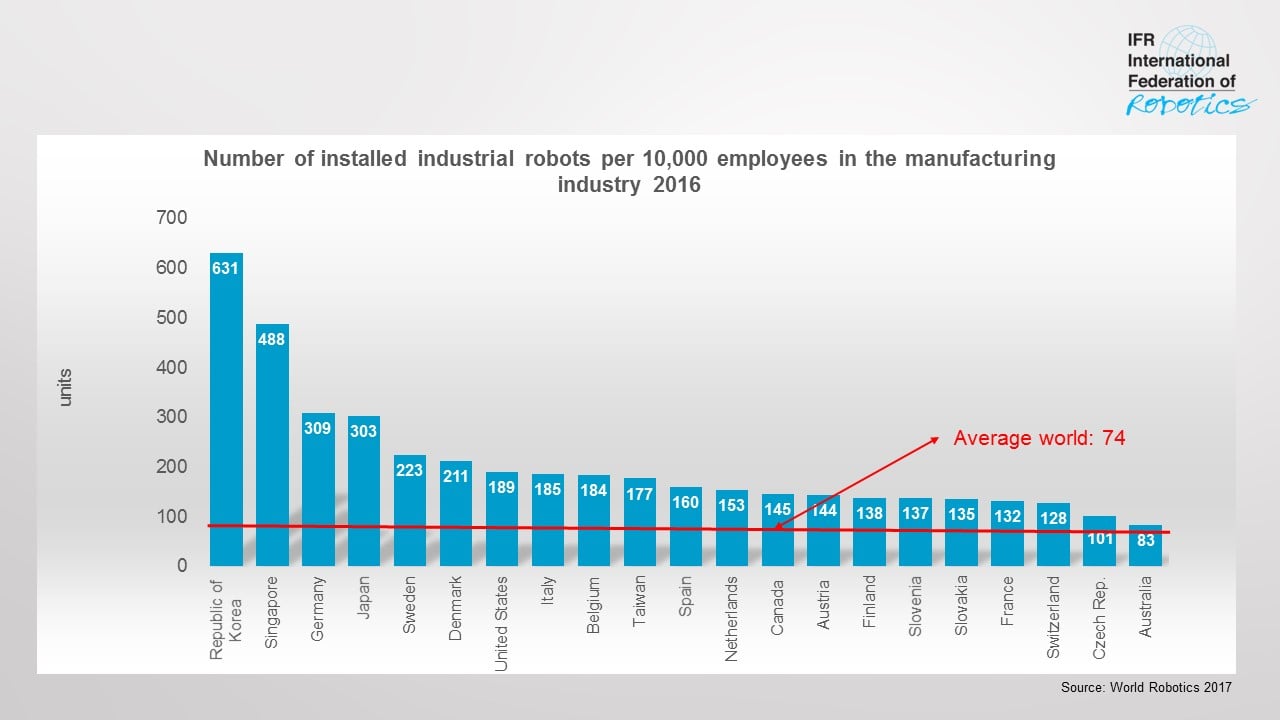 Krishnadev Calamur has written a very well-informed essay for The Atlantic on how the Syrian civil war has been transformed into a regional conflict and threatens to evolve into an international conflict.  The dangers are clear:
"In the last few weeks alone, Turkey has clashed with Syrian Kurds and threatened a U.S.-controlled town in Syria; an Israeli fighter jet that was part of a response to an incursion into Israeli territory by an Iranian drone launched from Syria took Syrian anti-aircraft fire, forcing its two pilots to eject and parachute into Israeli territory; and U.S. forces repelled an attack by Russian fighters, killing an unknown number of them that reports suggest could be in the hundreds.
"Taken individually, each one of the clashes has the potential to turn into something more dangerous. Taken together, they suggest the reasons why even after the defeat of ISIS, Syria cannot hope for stability to return soon—and why the next chapter could be even worse. 'The issues have been out there: Kurdish-Turkish-American tensions; Iran-Syria-Israel tensions,' Ryan Crocker, a former U.S. ambassador to Syria, told me. 'But … we've gotten to a level not reached before, and it's all coming at once.'"
All these pressures have been present in Syria for a number of years, but things seem to be escalating without any coherence or deliberation.  Unfortunately, there does not appear to be any interest on the part of the great powers to contain and diminish these tendencies.  It's not clear that things will explode, but there clearly is not the will to assure that they do not.