Protests in Iran have continued into the 4th day.  Thus far, 12 deaths have been reported, but it is difficult to know exactly what is going on.  The protests have occurred in a large number of cities, but they do not appear to be organized nor do they seem to cohere around a single objective.  These protests are quite different from those that occurred in 2009 when the "Green Movement" was an organized attempt to derail the re-election of President Ahmadinejad whom many believed was corrupt.  These protests seem to be calling for reform, not regime change–the current President, Rouhani, was re-elected handily last May.  The US and Israel would be well-advised to pay attention to this difference.  Iran is a highly educated, very sophisticated society and if foreign powers become too involved in cheering on the protests, there is a real risk that the protests could be de-legitimized by the hard-liners in Iran.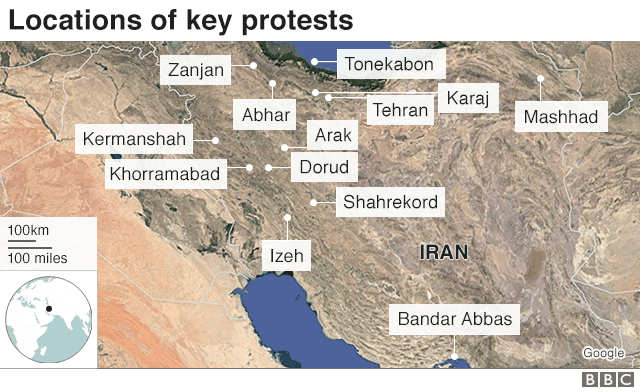 US President Trump rang in the New Year with a Tweet excoriating Pakistan:
"The United States has foolishly given Pakistan more than 33 billion dollars in aid over the last 15 years, and they have given us nothing but lies & deceit, thinking of our leaders as fools. They give safe haven to the terrorists we hunt in Afghanistan, with little help. No more!"
Mr. Trump made similar comments about Pakistan last August, but there has been no indication that the public criticism had much tangible effect on Pakistani policy.  Needless to say, the Pakistanis rejected the criticism and it is highly unlikely that public shaming will produce anything other than hard feelings.
Angus Deaton won the Nobel Prize in Economics in 2015.  He has written a short essay on inequality that addresses a central concern: is economic inequality simply the result of normal economic activity or is it something that is deliberately constructed through selfish interests?  His answer is the latter.  The essay is difficult to follow, but not long.  It is well worth the effort.