US National Security Adviser McMaster continues to ramp up the rhetoric against North Korea, telling the BBC that US policy is "not committed to a peaceful resolution — we're committed to a resolution.  We have to be prepared, if necessary, to compel the denuclearization of North Korea without the cooperation of that regime".  (To see the video of the BBC interview with McMaster, click on the link below) Further, Yonhap News from South Korea reported on 17 December that "South Korean and U.S. forces conducted a joint training last week for infiltrating North Korea and removing weapons of mass destruction in case of conflict".  Last August, Business Insider published a report on how such an attack to seize North Korea's nuclear weapons would go down.  Finally, The New York Times is reporting that the Chinese are building five refugee camps along the North Korean border in case there is a flood of refugees after an attack on the country.  The Chinese are also conducting air force drills over the Yellow and East seas near the Korean peninsula along "routes and areas it has never flown before" signaling "a warning to Washington and Seoul not to provoke Pyongyang any further".
http://www.bbc.com/news/av/embed/p05rhjgq/42403260
The European Union is initiating a process to penalize Poland for violating the human rights protections of the Union.  The process, invoked by Article 7 of the Union Treaty, could ultimately strip Poland of its right to vote on Union matters.  The process started after Poland passed a new law that could "force two-fifths of Supreme Court Justices to retire and give politicians sway over court appointments".  The European Commission outlined its reasons for initiating the process in defense of judicial independence in Poland in a press release.  The European Council head, who is also a former Polish Prime Minister, Donald Tusk stated that "Poland is perceived today as a disintegrating force in this part of Europe and this is why I believe that it is important to end this devastation of Poland's reputation".  It is unlikely that Article 7 will be fully invoked since it requires a unanimous vote of all 27 members of the Union and Hungary, led by Viktor Orban, is highly sympathetic to the new Polish law.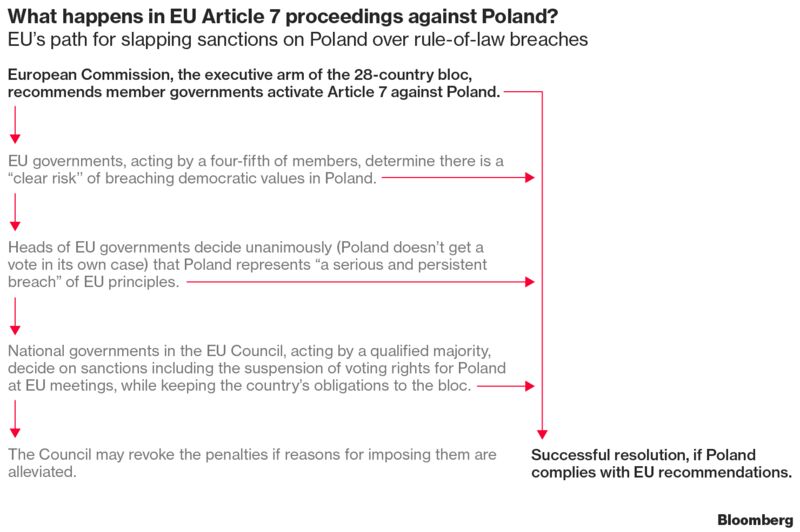 China's Belt and Road Initiative (BRI) is an extraordinary initiative which, in a very real sense, will try to revitalize the old Silk Road trading routes.  China is building a transportation infrastructure that promises to unite East, South, and Central Asian markets with those in Europe and Africa.  Much of this infrastructure is being built with Chinese loans, the terms of which rarely conform to the transparency required of most loans proffered by international banks or international lending agencies (environmental reviews, for example, are rarely conducted).  Countries are usually required to offer the facility being constructed as collateral on the loans, so that in the case of a default China simply takes control over it.  In this manner China has taken over the Greek port of Piraeus, the Australian port of Darwin, the port in Djibouti, and most recently the Sri Lankan port of Hambantota.  The takeover are 99-year leases, similar to the leases taken out by the British over the Chinese port of Hong Kong many years ago and that of the American lease over the Cuban port of Guantanamo in 1899.  Some patterns of imperialism never die.