Violent protests are entering a third month in Venezuela.  The situation continues to deteriorate as President Maduro refuses to make any concessions to those who believe that he has destroyed Venezuela's democratic institutions.  67 people have died in this most recent phase of protests, but, unlike the protests in 2014, it does not seem as if these protests will die down.  Infant mortality and malaria rates are on the rise as basic medical care becomes increasingly inaccessible.  Venezuela is in a state of complete collapse and it is hard to see how the situation can be stabilized.
Protests in Caracas on Saturday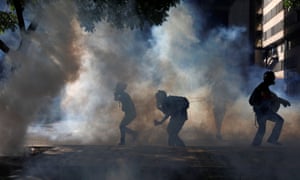 A counter-terrorism court in Pakistan has condemned a man to death for the crime of blasphemy.  Taimoor Raza, 30 years  old and a Shia Muslim, had engaged in a sectarian debate on Facebook and was convicted of insulting the Prophet Mohammed by criticizing the Deobani sect, a Sunni Muslim sect.  Raza had unknowingly engaged in the Facebook debate with a counter-terrorism agent of the Pakistani government.  The application of blasphemy laws to social media represents a major expansion, and an expansion that seriously threatens to use those laws in ways that could be a weapon of personal vendetta.
The referendum in Puerto Rico yielded mixed results.  97% of those voting voted for statehood.  That sounds like a resounding vote in favor of statehood, but only 23% of Puerto Ricans voted in the referendum. The ballot question was worded in a specific manner–it asked for an answer to the question as to how Puerto Rico should implement the "decolonization" of Puerto Rico.  The wording of the ballot and the exceptionally low turnout (Puerto Rico usually averages 80% participation) suggests that the US Congress will feel no pressure to act upon the results.